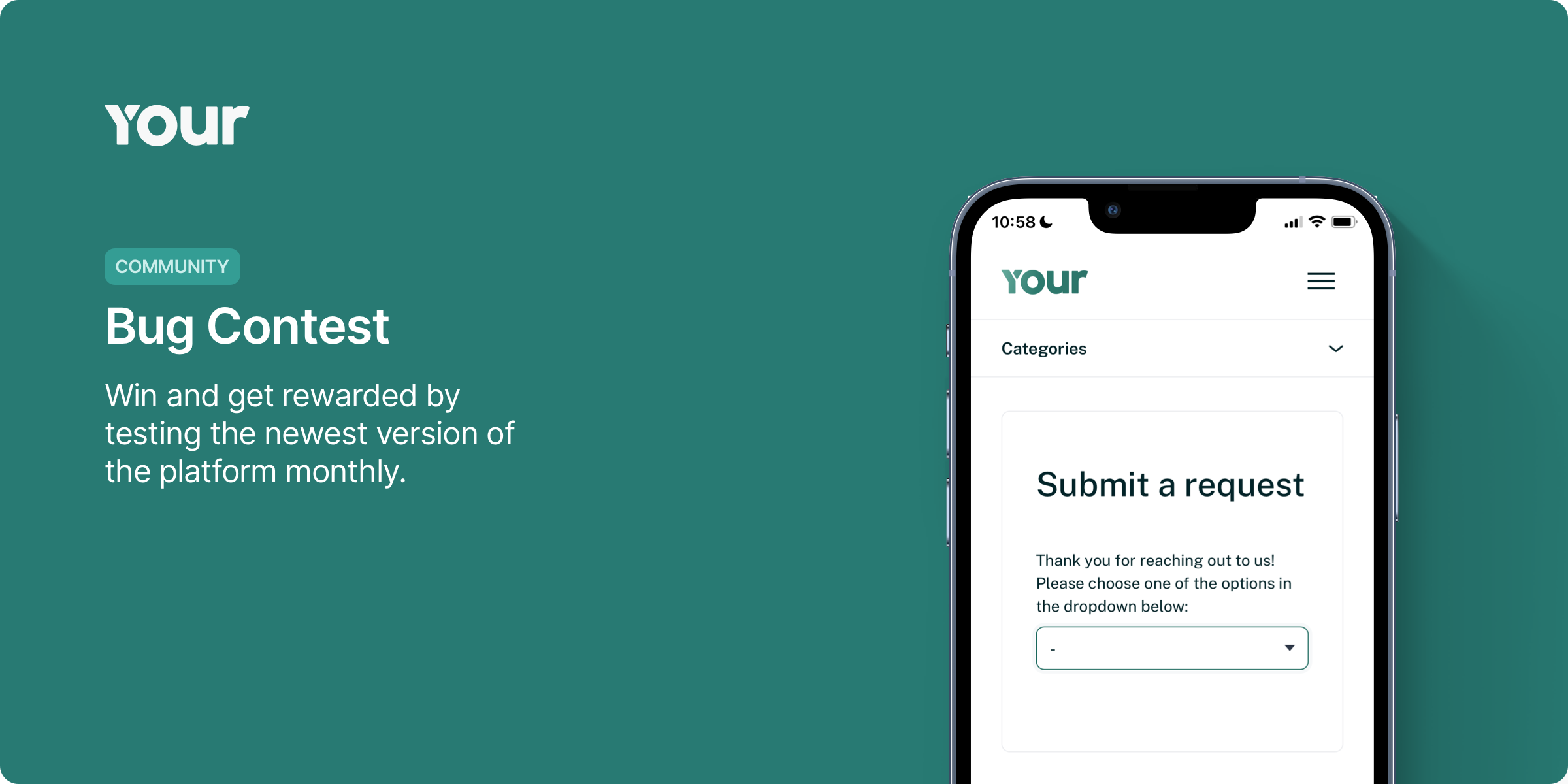 This edition of the Bug Contest runs from February 1st to February 28th.
YOUR strives to grow day by day since the platform is never done improving. With the help and input of the community YOUR ensures all the potential of the platform is fully utilized. Here you will find all information regarding the monthly Bug Contest*. Good luck!
How do I address a bug?
When finding a bug you can submit a request at the home page of the official help center of YOUR. Choose a category your request falls into and enter the required information. Team YOUR will personally process every bug and decide whether the bug is a familiar bug or a new, useful bug. These requests will be confirmed.
How do I earn points?
For every bug confirmed by the team, receive 1 point. Every month YOUR will reveal three winners with the most points. The contest always start on the first day of the month and in turn will end on the last day of the month. Every 5th day of the month the winners from the previous months will be announced on Telegram and Twitter.
When do I win and how will I be rewarded?
The person with the highest amount of points wins. Every month, the winner receives 250 USDC, the runner up wins 100 USDC and last but not least, the third person receives 50 USDC.
These are the dates for all bug contests coming year. All winners will be revealed on the 5th of the month after the expired month.
1. February 1st - February 28th 2023
2. March 1st - March 31st
3. April 1st - April 30th
4. May 1st - May 31st
How do I test the platform?
Below are some instructions and guidelines of how to test the platform optimally. You can stick to these instructions or you can find your own way on the platform.
YOUR is the place for everyone to learn everything around a product. Start searching for some products on https://your.io/

Important note: for Testnet only the category "electronics" is live.

If you know a certain product you can create content around it, for example a description, image or a video**.

Create an account

and become a creator.

Try to enrich your profile with information such as a profile picture and some information about yourself.

Choose a number of products that you know and/or that you would like to create content for. For inspiration you can search the internet for images or texts about this product and so on.

Click on "create content" to open the content editor and start creating.

Publish your content.

On the manage content page you can check the content you created. It always starts with the status "pending" because the content needs to be curated.

Try to test and click as many links as you can to find bugs.
Participation
Once you have sent in a bug or request, you are automatically participating in the Bug Contest. There is no need to register anywhere.
Why?
YOUR initiated a monthly Bug Contest to motivate users to search for bugs in the platform. Three people per month get rewarded by testing the newest version of YOUR. As YOUR has a lot of dedicated community members, testers are really challenged to do their best to excel in this competition. Read more about the rules, instructions and rewards of the second Bug Contest below.
List of confirmed bugs
For you to avoid submitting the same bugs several times, this article with a list of confirmed bugs will be updated weekly. Before submitting a bug, please go through the list to prevent submitting a bug that has already been found.
List of fixed bugs
After submitting a bug, the team has worked hard on solving this bug. To show the growth and developments thanks to your suggestions, a list of fixed bugs is included within the Bug Contest page.
Tips & tricks
You could try testing with browsers Firefox and Edge, you could also try to test on Android devices or tablets. Specific functionalities that are so complex that you might find some bugs in them include: the Search functionality, the Product Editor and the Manage Content page
- Operating systems we support (latest versions):
Windows, iOs, Android
- Browsers we support (latest versions):
Safari, Chrome, Edge, Firefox
*What is a bug?
It is important to understand what constitutes a bug before entering the Bug Contest. Its team has been busy with testing the platform on several servers with different functionalities to find bugs that get in the way of using the platform properly. Bugs such as password errors, "page not found"- notifications and a not working verification mail are all examples of bugs that should not be there.
Obviously there should be as few bugs as possible to create the best user experience for creators and content users. Because the team is deeply involved in the process, it is very likely that bugs will be overlooked. That is where community members come to play. With the fresh look of community members YOUR is able to keep growing.
**Please be aware that only English content will be approved for the first version of YOUR.