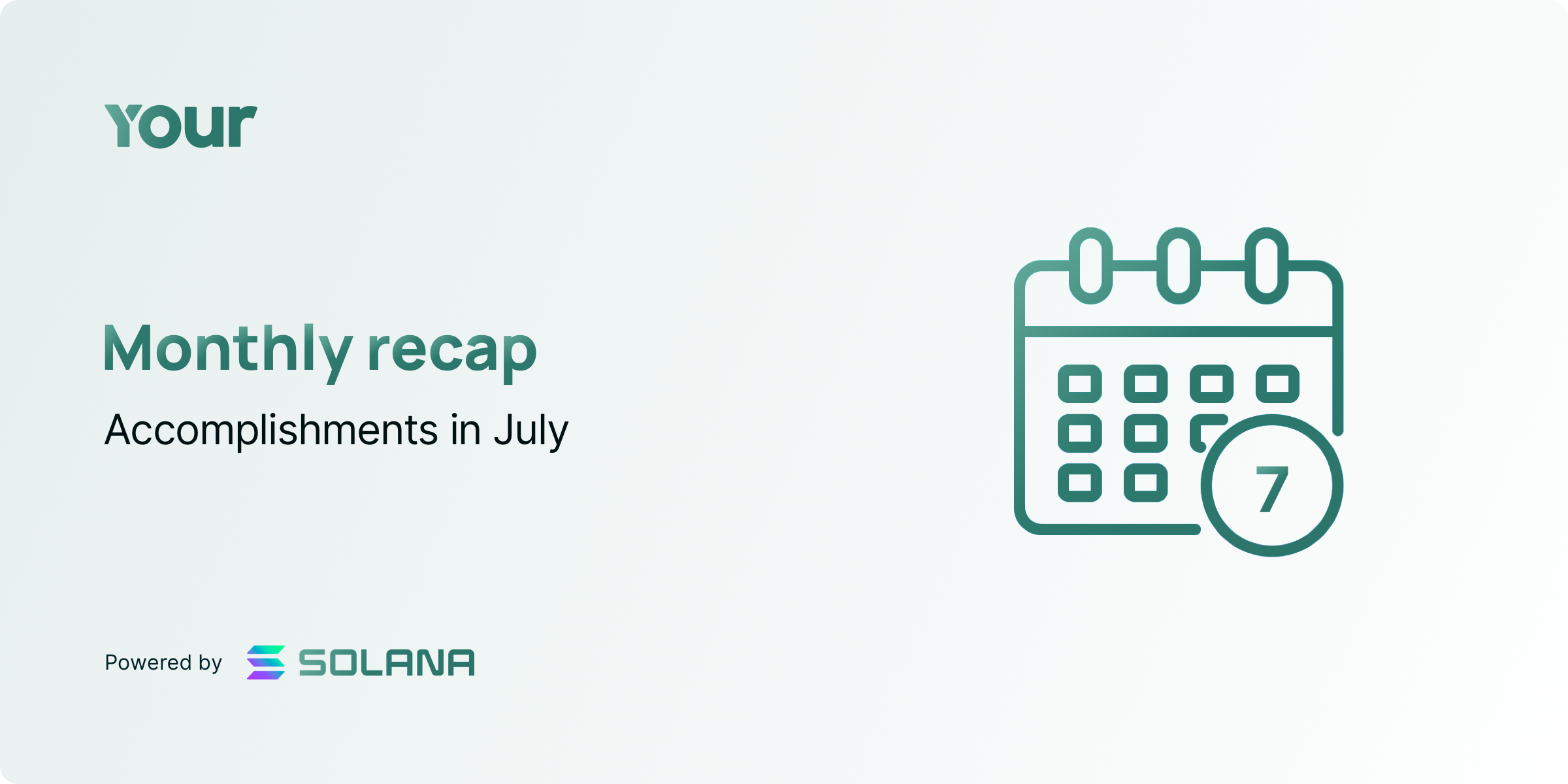 Accomplishments of YOUR in July
A warm welcome to all the new members of the YOUR community.
The foundation of YOUR Protocol is its community. By facilitating an open source protocol for unique digital and physical product content by the people for the people, you stay in control of and profit from your own creations and efforts. This vision of YOUR Protocol can only be realized together! Thanks for supporting our vision of reshaping the buying experience with user generated product content.
The first monthly update
As we are nearing the launch of YOUR, this update will provide a clear view on the roadmap and achievements. YOUR will publish an update every month so that the community is aware of all developments.
Besides the updates about product development, the launch of #testnet, the expansion of our worldwide community and team will also proudly be discussed.
Learn more by reading our monthly recap below.
Our new protocol
YOUR is the place for everyone to learn everything around a product to make a better purchase decision. All the product content is created and maintained by a worldwide community and made public on your.io. The team is working very hard to finalize the new platform. Soon it will be accessible for everyone to visit. If you missed the preview video, check it here below:

If you know a certain product you can create content around it, for example an image or a video. You get a share of all the earnings every time the product content is sold. This will undoubtedly allow creators to build a passive recurring revenue stream out of their work.
39.000+ Testnet users
To provide the best website for the content creators and content users, a testnet will be launched. In response to the call to sign up for the testnet, 39.000+ registrations have been received from the community to join our #testnet! The testers get a chance to give feedback on the first version of our website. With this feedback, the team can optimize the website to make sure later on everyone can use the site in the best way possible.
The YOUR community is growing everyday with many enthusiastic members. Are you interested in joining our community? Join us on Telegram!
Our community has expanded
A decentralized community strategy does not mean that there are no local differences and that we lose sight of them. With the community team YOUR already has local expertise in English speaking countries, Rusland, Turkey and Korea.
In July there has been started a new community group for Chinese speaking community members.

🇨🇳 Chinese (join now)

🇺🇸

English

🇰🇷 Korean

🇹🇷 Turkish

🇷🇺 Russian
The community is the driving force behind YOUR. With that in mind, YOUR invests heavily in community managers who can speak to people 24/7 for any questions and feedback. If you are interested in helping us with the community, please let us know. Let's build a future together.
New people hired
In this period of time, it is very important to make sure people get to know YOUR. The community needs to grow and stay engaged in the best way possible. To make this happen, the marketing team has been expanded with two new members. With two persons extra, many great things can be accomplished such as the #testnet and weekly updates to keep the community updated!
What's next?
In the coming month, some new things are coming up. Firstly, with 39.000+ registrations for #testnet, the YOUR team wants to thank everyone for the enthusiasm around #testnet. From this number, twenty exclusive members will randomly be picked and added to the test group to test the ALPHA version of the protocol. Once that is live, several campagnes will start on all the social channels such as TikTok, Instagram and Twitter. With these activation campagnes YOUR hopes to encourage users to start creating their own product content. It also gives members of the community the opportunity to get in touch with each other.
Thank you all for the support thus far. Let's build a future with the content creators and community!
About YOUR
YOUR is the place for everyone to learn everything around a product to make a better purchase decision. All the product content is created and maintained by a worldwide community. Usually within a company, product content such as product images, specifications or videos, are created by a content team. Thanks to YOUR, everyone in the world is able to create content for such ecommerce parties. By creating your own product content and sharing it at YOUR, brands and ecommerce marketplaces are able to buy your content. By doing this, you have taken away a big part of content creation from a party active in the ecommerce.
Follow YOUR on social media:
Follow our official social media accounts to stay up to date. Check all our community, social mediua and documentation links here or below:
🐦 Twitter: https://twitter.com/yourtokens
🌎 English Telegram: https://t.me/your_community
🌎 English Telegram announcements: https://t.me/your_community
🇰🇷 Korean Telegram: https://t.me/your_community_KR
🇰🇷 Korean Telegram announcements: https://t.me/your_announcements_KR
🇷🇺 Russian Telegram: https://t.me/yourofficialrussia
🇹🇷 Turkish Telegram: https://t.me/YourTurkiye
📝 Medium: https://medium.com/@yourofficial
👾 Discord: https://discord.gg/8deTbfAsdW
If you have any questions or comments, feel free to drop in our Telegram group or Discord and let us know!