Now that the product content app, which allows streaming of product content to web shops, has been live for a while, we can keep adding new features to make the app even more unique and, most importantly, user-friendly. October was all about developing these new features. From design to back-end and front-end development activities, the team has gathered and shared their qualities with each other. We are proud to be able to give a little insight into the newest developments in this monthly recap.
YOUR product content app
To ensure that every online shop can use the YOUR product content app for Shopify autonomously, new features have been developed for the app. These features will provide e-commerce shops with more guidance and more detailed information about the app. This way, the mission that every shop is capable of using the app autonomously will be realised.
Furthermore, the new functionalities will include a complete onboarding process, an extensive dashboard, and content streaming analytics. You can see a preview of the dashboard below.
Welcome on board
A clear and structured onboarding to get you started should not be missing from the list of new features for the app. That's why we have added three short steps to teach you how to style and stream product content. The following steps are included in the new admin dashboard:
Introduction
In the first step of the onboarding process, a short introduction to the app is provided to get you started. Watch this video to learn more about how to use the app.
Add content via drag & drop building blocks
Now that it is clear how to activate the app and how to add content to your webshop using the drag & drop content blocks, it is time to set up your product pages. Clicking on one of the shown products leads to editing a product page. Besides that, video tutorials are provided to get you off to an even better start.
Style content
Even though the product content automatically takes over to the style of your webshop, the third step allows you to enhance your content settings even further. Watch a short video again where the styling of the content is briefly explained.
Dashboard
To provide shops with a proper overview of their content streaming details, an extensive dashboard is added to keep track of this information. Use the dashboard to learn more about the amount of matched products, a shops' match rate, request and costs.
Stream content
Shops might wonder to what extent their shop has already been improved. All the necessary data is all visible in the dashboard under "Stream content": which content types are activeand in which categories the content is active.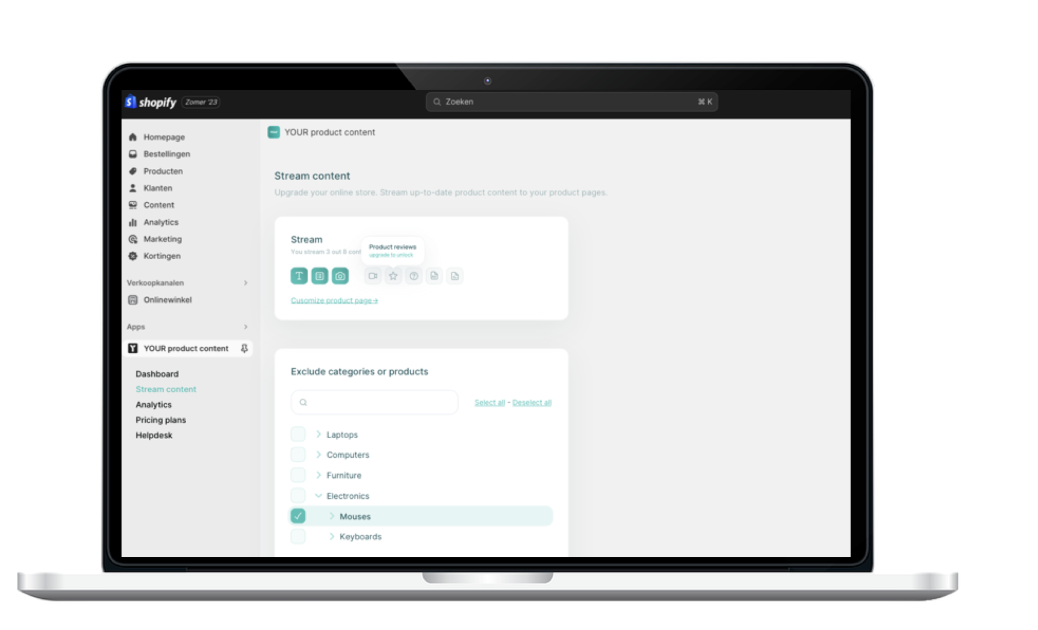 Analytics
The analytics allow shops to dive a little deeper into the information provided on the dashboard. Gain deeper insights of your content streaming with graphics and statistics that refresh every day.
Pricing plans
With four pricing plans to choose from with each plan increasing its features and options, we provided a clear overview within the Shopify admin dashboard. Shops can upgrade or degrade their pricing plans at any time.

Helpdesk
We like to keep all information in one place to create the easiest user experience as possible for the shop. Although we aim to guide users through the app without leaving them with unclarity, we added a helpdesk with necessary video tutorials and frequently asked questions.
Request a demo
Each month, we welcome a fresh wave of clients into our fold. Our initial clients who have adopted our SDK and Shopify app express not only high levels of satisfaction but also, and more importantly, they are achieving impressive outcomes, with significantly improved conversion rates in their webshops. The seamless integration and user-friendly nature of our app empower webshop owners to enhance their product sales and boost their conversion rates effectively.
If you are a webshop owner and interested in our content solution, request a demo here.
Follow YOUR on social media
Join our community on Telegram or stay updated by following our Twitter, Medium, and other social pages via this link.