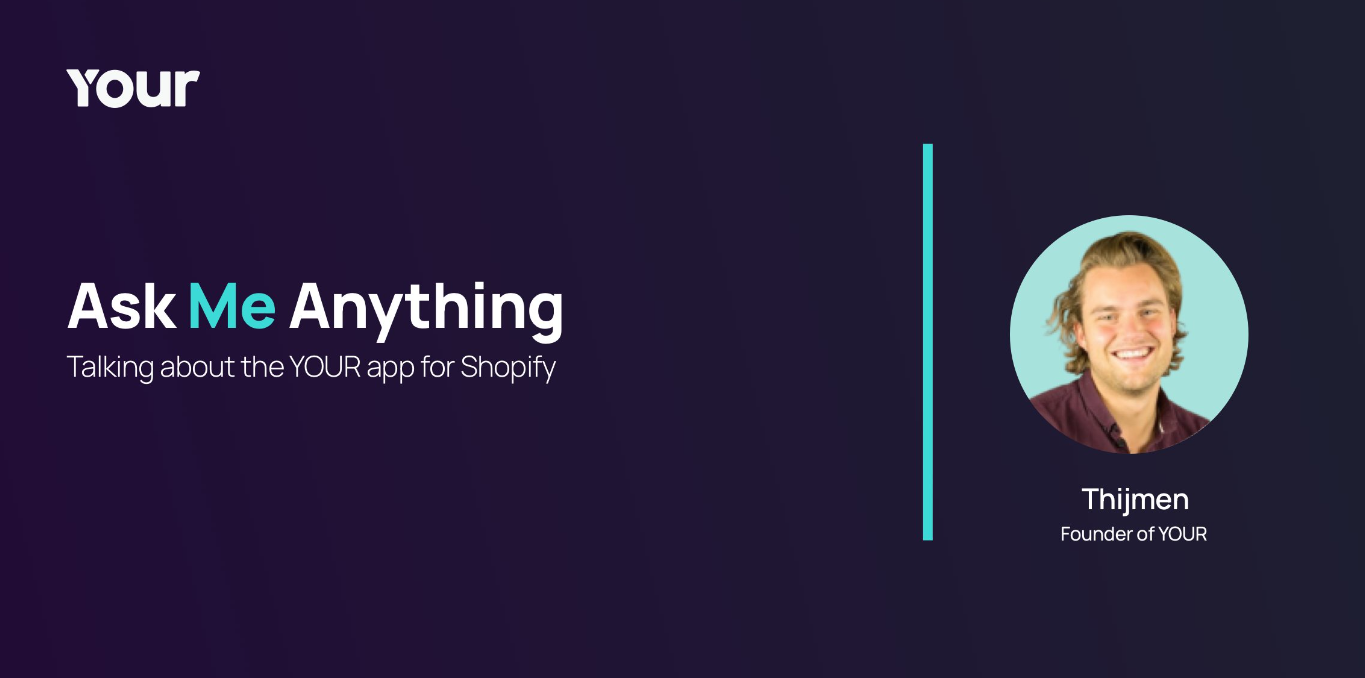 On Thursday 8th of June, Thijmen, founder of YOUR, joined the second AMA to answer selected questions from the YOUR community. A big thank you to everyone who joined again, we look forward to building a strong community.
The AMA session began with a warm welcome to all participants in the official Telegram community. Thijmen and the subject, the YOUR app for Shopify, were introduced. The community eagerly posed their questions before Thijmen started answering them. with a total of 18 questions being asked. Ted chose 7 questions to answer, providing valuable information and insights. Here is a recap of the questions and corresponding answers:
All questions and answers of this AMA
Q1: How does the YOUR app for Shopify really works? Do we get to use it for dropshipping too or is it just an in app tool?
A1 from Thijmen: Good question, the nice part of our integration is that everybody can use it. Doesn't matter if you have your own products or are a dropshipper. With a couple of clicks you can integrate us in the page and we serve the content for you. So give your shop the experience of an amazon for a fraction of the cost.
Q2: Does the YOUR app support all content types YOUR offers?
A2 from Thijmen: Definitely, the YOUR app supports all content types, including descriptions, images, videos, reviews, question-and-answer formats, and more.
Q3: Any partnership with other projects that assure the success of the program?
A3 from Thijmen: So by partnering up with Shopify, we have access to the 4.6 million shops that are build on top of their platform. We are now lauching the Beta version with 20 launching customers to test our setup and monitor the conversion rate of the platforms. We have the believe that the conversion rate will significantly increase with the right and extensive content.
Q4: Can users of YOUR app customize the content to their own webshops style?
A4 from Thijmen: Good question, we wanted to make YOUR part of everyones webshop. The YOUR app provides design customization options such as color selection and text alignment to align the content with branding guidelines. This way the product content of YOUR flawlessly fits in every store.
Q5: Excited to start with the app today, is there somewhere a step-by-step guide on how to start?
A5 from Thijmen: Great, contact us through team@your.io. Maybe we can put you on the launching customer list. Next to that we aim to keep the app as user friendly as possible, we also provided detailed installation instructions in a page on our learning hub: https://bit.ly/43mi5wE
Q6:
Are there any plans on developing an app for other ecommerce platforms than Shopify?
A6 from Thijmen: Yes, we are now just in the beginning of what is possible. We are currently in the proces of developing comparable apps for other ecommerce platforms, such as Adobe Commerce and Lightspeed. Also we are creating a SDK so that custom websites can also stream and enjoy our extensive content.
Q7: How did you experience the process of creating YOUR app?
A7 from Thijmen: Haha, i have spend hours/days in our editor to see where the bottle necks were. But sometimes you're already to deep into the product, so that is why we also have an extensive team of testers and content creators that are creating content in our app.
Q8: I have created some reviews, is there a possibility that my content will be streamed to a webshop?
A8 from Thijmen: First of all, awesome that you created reviews on our app. When your review is approved then it will be enabled for streaming. So depending on the product you wrote the review for it will be streamed. And thus you will also start making money!
Closing words from Thijmen
Big thanks to everybody here. Great to answer all your questions. If you still have questions left please just put it here in the channel or dm me directly. Happy to help.
The next AMA
The AMA will return monthly. Every month another guest will join to answer questions from the community. Next month, July 8th at 2pm UTC+2, the next AMA will be in our Telegram. Keep a close eye on our Twitter for the announcement of the next guest.