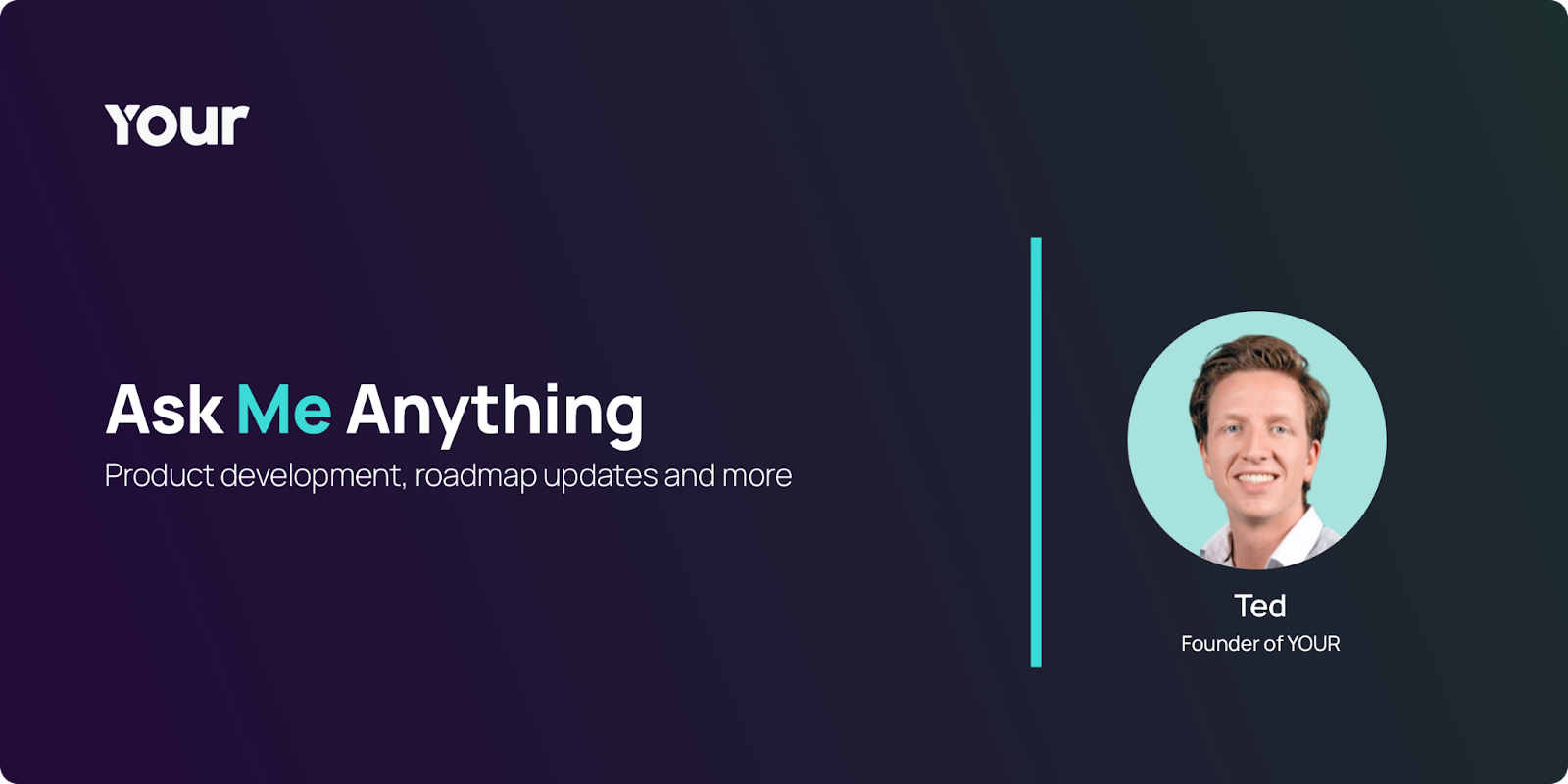 On Tuesday, 16th of May, Ted, founder of YOUR, joined the AMA to answer selected questions from the YOUR community. A big thank you to everyone who participated, we look forward to building a strong community.
The AMA session began with a warm welcome to all participants in the official Telegram community. Founder Ted was introduced, expressing gratitude for everyone's presence. The community eagerly posed their questions, with a total of 18 questions being asked. Ted chose 7 questions to answer, providing valuable information and insights. Here is a recap of the questions and corresponding answers:
All questions and answers of this AMA
Q1: What problem is YOUR solving?
A1: The existing system of product content creation and distribution suffers from issues such as lack of control, inefficiency, and inadequate product information. YOUR Protocol aims to solve these problems through a decentralized, transparent, efficient, and fair network. It allows content creators to have complete control over their content, ensures high-quality content for end-users through curation, and prevents content duplication and waste through decentralized storage.
Q2: Could you share the most important development features? Which part of the project are you most focused on right now?
A2: We are excited to announce our partnership with Shopify and the submission of our Shopify app to the app store. YOUR app offers easy integration of various content types (descriptions, images, videos, reviews, Q&A) and saves time and money for shops. It requires no technical knowledge, enhances sales by providing high-quality content, and we invite interested individuals to test our app with their Shopify stores.
Q3: When is it planned to launch the $YOUR token and what utility does it have?
A3: The protocol operates on its own token, which facilitates all contributions on the network. YOUR token is essential for protocol transactions, allowing users to create, control, distribute, and secure the protocol. We plan to launch the token on a top-tier exchange by the end of the year or in Q1 2024. Stay tuned to our social channels for Token Generation Event (TGE) and listing announcements. More information about the token's utility and tokenomics can be found on our knowledge base.
Q4: How do contributors to YOUR protocol get paid?
A4: YOUR protocol implements an earn and reward mechanism, ensuring fair rewards for all ecosystem participants. Content creators, owners, curators, and network nodes receive a fair share for their contributions. Transactions involve views or consumption of Web3 product content, resulting in micropayments as compensation.
Q5: What is the business model for earning money?
A5: The YOUR protocol operates on an earn and reward mechanism, where all ecosystem participants (content creators, owners, curators, network nodes) are rewarded for product content transactions. Transactions involve views/consumption of web3 product content, which generate micropayments.
Q6: Does YOUR already have important backers that can accelerate growth?
A6: YOUR has received support from reputable names in the blockchain industry. We have successfully closed funding rounds with investment from venture capital firms like Stratos, Genblock Capital, Skyvision Capital, as well as leading Solana and Binance Smart Chain launchpads, Solanium.io and Infinity Pad. Alongside our fast-growing team, backers, and strategic partners, we are committed to realizing our vision. More information about our partners can be found on our partners page.
Q: Will there be a new public sale on IDO launchpads to buy the tokens?
A: Yes, prior to the token's listing on an exchange, there will be an opportunity to purchase tokens on IDO launchpads. We will announce the IDO launchpads through our social channels. Thank you for your support, and we would love to have you.
The next AMA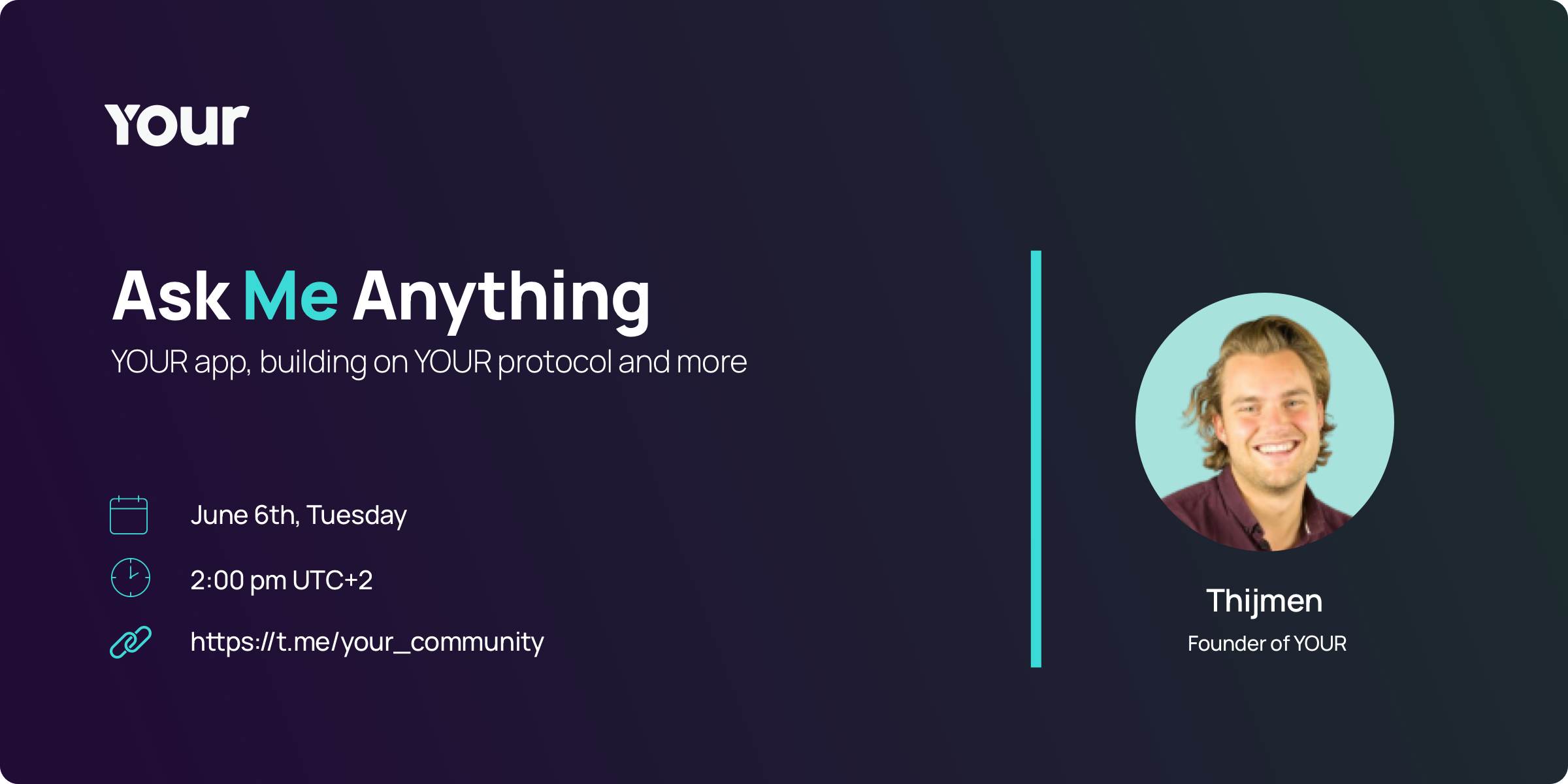 The AMA will return monthly. Every month another guest will join to answer questions from the community. Next month, June 6th at 2pm UTC+2, Thijmen, founder of YOUR is joining to answer questions regarding YOUR app for Shopify, building on YOUR protocol and more.