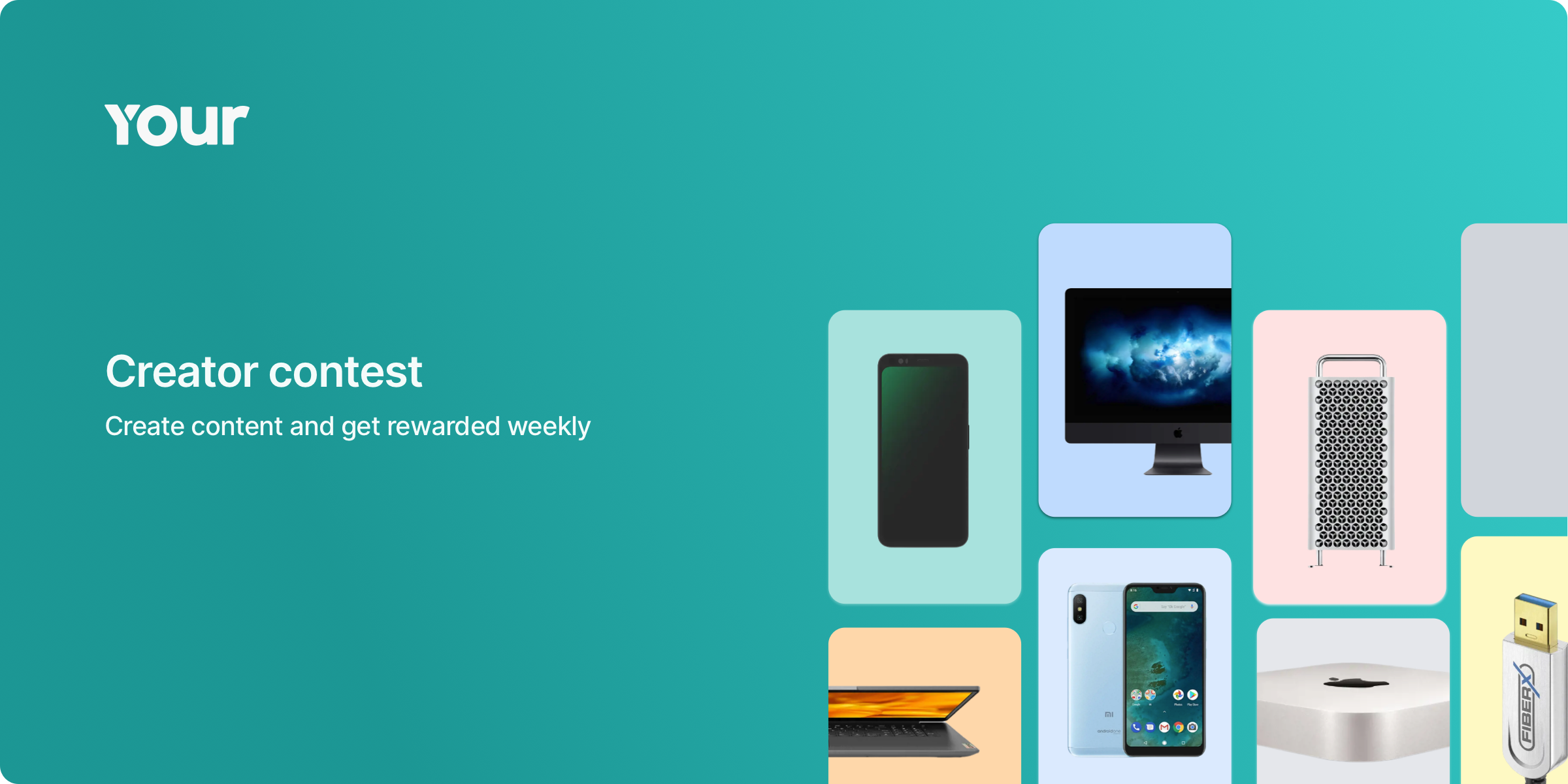 Welcome to this article with instructions for the weekly creator contest of YOUR. Read these instructions carefully before getting started.
Why YOUR creator contest?
YOUR is a Web3 protocol that offers brands and webshops exclusive and captivating product content, including images, reviews, and videos, helping them save time and resources. The dedicated creators of YOUR play a vital role in building this exceptional product content, and we highly value their contributions.
To celebrate and reward their efforts, we present the YOUR Creator Contest, providing creators with the chance to generate compelling and comprehensive product content while earning weekly income.
What it YOUR creator contest?
Participating in the YOUR creator contest allows creators to generate content for a selected list of products and earn rewards for each approved piece.
Each content submission earns 0.10 USDC, such as a review for a product. Moreover, if you create a title for the same product, you receive an additional 0.10 USDC. This means you have the potential to earn a total of 0.80 USDC for each product, maximizing your earning opportunities.
How to participate in the creator contest?
Sign up at your.io
Set up your profile
Choose any product from this list: YOUR - Weekly promoted products.
This list is automatically updated every week
Click on "+ Start creating".
Create engaging content for the selected products and publish your content.
After your content is approved, team YOUR will register your contribution.
Payments will be done every Tuesday to your Solana Wallet Address.
Tip: Use this page to learn more about adding content on YOUR: How to create content
When is the creator contest?
All data both start and end at 11:59 AM CEST
June 27th - July 4th
July 4th - July 11th
July 11th - July 18th
July 18th - July 25th
July 25th - August 1st
How and when will you get paid for your content?
Every week the number of content pieces that you created will be summed up. For each piece of content you earn 0.10 USDC.
Important notes:
Note that you will only get paid for your content once the content is approved by the system. This means only appropriate, fitting content will be approved and become available on your.io.
Team YOUR keeps registers your contributions, meaning you do not have to keep track of this.
Content created by any AI tool will not be approved and therefore not be rewarded.
Share your creations on social media!
We love to hear from you! Share your experience creating content for YOUR on social media and tag us. As a thank, will repost this on our Twitter, Telegram and Discord.
Good luck!