In 8 simple steps you can stream product content to your product pages such as descriptions, images, videos, reviews, and question-and-answer. For a more extensive guide on how to install the app, read this article.
Install the app
Go to Shopify's App Store and find YOUR app. Click on "Install App".
Connect with your store
Configure the product identifier
What are product identifiers?
Unique product identifiers define the product you're selling. They uniquely distinguish products you are selling and help match our product content with your products. The manifacturer of a product assigns unique product identifiers to each product. With this approach, even if two retailers offer the same product, the products will remain completely identifiable.
Select a product field
To obtain the correct product information from YOUR's database for the desired products on your webshop, it is necessary to select the right product field that YOUR should use to match the content to. Each product field contains a product identifier. The field options to select are sku, barcode or inventory_item_id.
In short, it is important to know in what field your product identifier is located.
Click Save button
After selecting the right product identifier to match content to your desired products, click the button 'save'.
Go to the online store section
Click on Shopify logo to go to the online store environment.
Click on the Theme customizer
Before enabling YOUR app in your webshop, you must first customize your theme. Click on the green button to go to the customizing environment.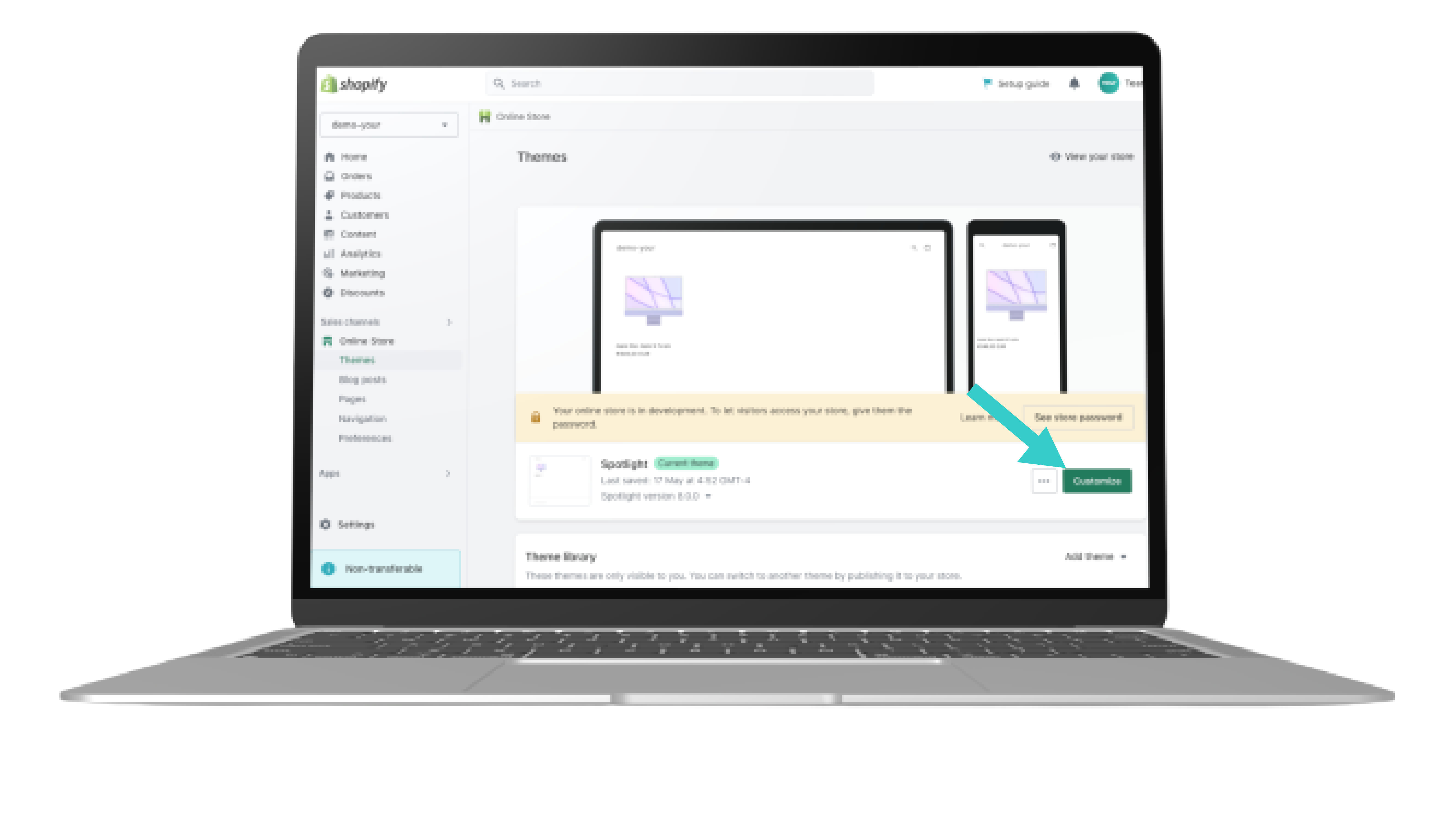 Go to the product page
Now that you are ready to customize your Shopify theme, head over to the product page via the dropdown menu on top of the edit environment. Go the the product you wish to add content for.
Watch the video below to learn how you land on the product page of a product.
Add content blocks
Now that the app is installed in your webshop, it is time to activate it on the product page. Follow these steps to customize the product page:
On the left menu, click on 'apps'.
A menu will appear on the right, displaying all the content building blocks.
Select the desired building blocks from the menu.
Add the chosen building blocks to the products page.
On the product page, personalize the content by selecting a content type.
Adjust the content type using the menu on the right.
Once you have customized the product page to your liking, save the page.
Learn more about adding and ordering building blocks on your Shopify product page in the video below.
Video: Add & Order building blocks