YOUR protocol, the foundation of Web3 ecommerce
With the exponential growth of ecommerce sales over the last year, the need for high-quality product content has become more crucial than ever before. As the market continues to expand, there is a growing need for control, transparency, and efficiency in the creation and distribution of product content. With YOUR, we understand that the key to success in ecommerce lies in the availability and quality of product content.
Therefore, we are introducing YOUR protocol to the world: anopen-source product content streaming protocol. We aim to solve the shortcomings of Web2 and position ourselves as the number one content provider for the emerging Web3 ecommerce markets. Our protocol enables the creation and distribution of product content in a transparent, controlled, efficient, and fair manner, making it easier for businesses to showcase their products and reach a wider audience.
Our team is dedicated to providing a protocol that is not only user-friendly, but also promotes the creation and distribution of high-quality content in a fair and sustainable manner. With YOUR protocol, businesses can leverage the power of the metaverse, NFT, and other emerging Web3 ecommerce markets to reach their full potential and stay ahead of the competition.
Revolutionizing Web3 ecommerce
YOUR wants to bring over the potential of YOUR protocol with Web3 in the best way possible. It is essential to recognize that the Web3 technology represents the future of the internet, and it has the potential to revolutionize how we interact with rewards, ownership and product content creation and distribution.
Previous months have been all about processing YOUR protocol and sharing it with the world, in both articles and the renewed Learning Hub. Join us in exploring this exciting new world of possibilities with this article:
Revolutionizing Web3 ecommerce with a Decentralized Product Content Protocol
Shopify Testnet with YOUR distribution dApp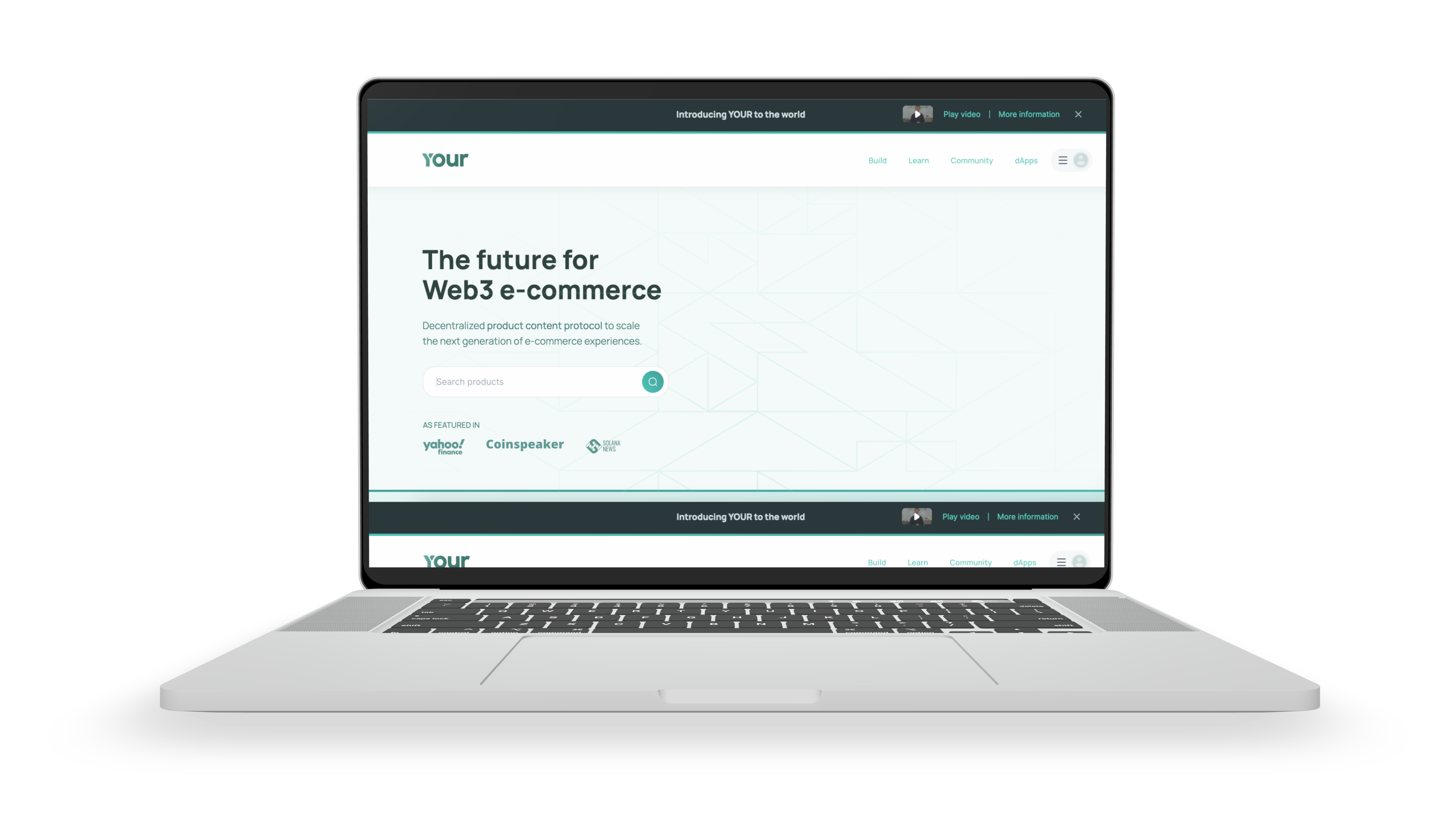 Before ensuring Web3 ecommerce platforms will take full advantage of streaming product content through YOUR protocol, it is critical that the integration with YOUR on their own ecommerce platforms works smoothly and flawlessly.
YOUR distribution dApp
Decentralized Apps (dApps) are changing the way we produce, consume, and share information. YOUR Protocol uses blockchain technology to create a decentralized network, which enables transparent, controlled, efficient, and fair creation and distribution of product content. Implementing this technology with YOUR protocol enables us to provide dApps for both content creators and companies and brands to stream content through.
Thanks to this, companies and brands benefit from up-to-date data, efficient, decentralized, innovative and secure networks with YOUR protocol to stream the content through dApps.
Practice makes perfect
This month, the first version of YOUR distribution is launched internally and ready for the inner circle of the team to test on Shopify. We proudly present you a preview of what this will be looking like.
Fresh look
With a fresh look and renewed focus on user experience, we've streamlined the layout, added new features, and removed any clutter of YOUR. Our goal is to provide a seamless and enjoyable user experience. Take a look at the preview below to see the clean and modern design with easy access to all necessary documentation, learning hub and sign up to get started with YOUR.
Follow YOUR on social media
Join our community on Telegram or stay updated by following our Twitter, Medium, and other social pages via this link.
Join our community on Telegram or stay updated by following our Twitter, Instagram and other social pages via this link.